Get the coach they said. Quick and easy they said. Better than flying when you factor in transit to and from the airports and baggage they said. Liars. All of them. Admittedly Kevin and I were probably very unlucky, but what was supposed to be a 4-5 hour coach journey getting us from Kuala Lumpur to Singapore in the early afternoon totalled at just over 9 hours. Delays departing, being held up at immigration by other passengers and traffic all combined to make a journey to forget. As it was early evening, our first foray into Singapore was in Chinatown around our hostel for food, drinks and then a trip to Clarke Quay for a messy (and expensive) night out. Most expensive city on the planet? Our first 8 hours cost more than 4 days in Malaysia, so possibly!
Chinese Lanterns, Chinatown
A very hungover walk around the Merlion Park, Raffles and Fullerton was all we could manage in the morning. The waterfront in Singapore really is great though, bustling just as you'd expect being the major tourist attraction it is. After partially recovering with fresh juices and coffee we headed to Little India for food and to buy some more clothes as the heat and humidity were getting through ours faster than we had anticipated! Another delicious meal, this time at an Indian hawker centre and we rallied fully, heading back to the hostel to sort out the main event of our day (and highlight of our trip).
The famous Merlion
We were off to Singapore Zoo, going to experience the fantastic Night Safari. This is something that has been recommended to me many times by friends who have either visited or lived in / are from Singapore. It did not disappoint! Pre-booking is essential, and even with "queue jump" tickets the queues to get in for our timeslot took a while to thin out. I would recommend walking the trails first, giving you a chance to see the animals in their night time environment when everyone else wants to do safari. Highlights for me were seeing fishing cats paw at fish and a beautiful clouded leopard slinking in and out of the undergrowth.
I wish I took this picture, but Fishing Cats at the Night Safari nonetheless!
After walking all three trails, we took the safari tour. Incredible. It felt like I was in Jurassic Park, being escorted with a speaker system informing me that to my left I would see a pack of hyenas or a herd of elephants. Compared to visiting a zoo, where the majority of the predators laze around in the day waiting for night to come around and their hunting instincts to kick in, the night safari gave a unique opportunity to get close to the action. There is something chilling about hearing a lion roar at night in the distance, no matter how safe you know you are. The only thing that could be better would be actual safari I reckon. I guess I'll have to wait to find out! Finishing off with the creatures of the night show and seeing some owls and striped cats up close, Kevin and I were ready to head home after a 4 hour immersive animal experience. Absolutely worth every penny.
Another stock image of the totally badass safari tour
The following day we chose to visit Sentosa Island and explore Fort Siloso. Not much could live up to the night Safari, so our thinking was that we should mix it up and move away from animals to some WW2 history and time spent at the beach. Buying a cable car pass seemed like the best idea for the pair of us, and it gave amazing views travelling across the bay. Unfortunately for Kevin and his crippling fear of heights, the panoramic views did not give a sense of security – especially when combined with my constant rocking of the car. Sorry mate!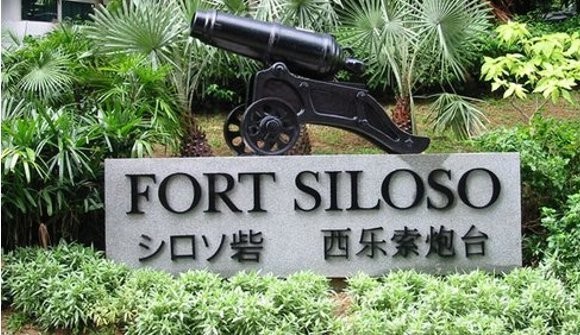 Fort Siloso – explore Singapore's military and WW2 history
Delving into Singapore's wartime past was a must for me and seeing the gun emplacements really gave me the thrill I thought it would as a postgraduate in military history. Once we had seen as much of the WW2 trails as we wanted to (to be fair the humidity played a factor in us cutting some of these short), we headed for the beach armed with coconuts and spent the rest of the afternoon soaking up the sun and enjoying our time in the tropics. Some well-earned R&R after a full on couple of days.
Sentosa beach – unfortunately another google image!
After whizzing through the super touristy complex of Sentosa (no we didn't want to go shopping, no we didn't want to go to Universal Studios and while we wanted to see the aquarium we didn't want to enough to queue for 2+ hours to see it!) we headed back to the mainland, via the cable car up to Mount Faber. Once we had checked out the park at the summit we got Singapore slings and watched the sunset over the financial district. A brilliant afternoon.
Views over the financial district – just a few office blocks!
For our last night in Singapore we had to try Chili Crab, having heard all kinds of stories – ranging from it being overrated, to the best food ever, through to my girlfriend Emily and her mate Anja not agreeing a price beforehand and being charged hundreds of dollars upon receiving the bill! We settled on a visit to Tian Tian Fisherman's Pier on Clarke Quay after reading good things in the Michelin Guide. For me and Kevin it was definitely disappointing. I am only glad we agreed a price beforehand, so while the meal was unimpressive, it didn't break the bank. We rounded the evening off with a visit to Merlion Park and then Gardens by the Bay to see the iconic super trees, Singapore nightscape and Marina Bay Sands. Lights of all colours, in an urban and natural setting gave us everything we wanted. Drinks on top of one of the super trees looking over the city helped as well!
The Supertrees light up at night
In the morning we got up and packed, ready to check out of the hostel later in the day for our flight back to the UK. Kevin and I then decided to hit up Liao Fan Hong Kong Soya Sauce Chicken Rice & Noodle, the famous Michelin Starred Hawker food of Singapore. For £6 we had a Michelin Star lunch and it was truly an experience worthwhile for anyone visiting the city state. Delicious.
Mural in Chinatown outside Liao Fan's
After a forgettable walk around Bugis Village Market (where you can buy any item of clothing except boxer shorts, as Kevin found out), we decided to spend our last afternoon in the Singapore Botanic Gardens – much like Kuala Lumpur it was a fantastic piece of tropical paradise in a the busy metropolitan city. Kevin visited the National Orchid garden while I wandered around the Ginger gardens. Given more time I would have loved to have spent more time here. It seemed more than worthy of its UNESCO World Heritage Site status in the few hours we were there. Next time, perhaps. After 7 days in Asia we headed back, tired but thrilled by the experience. Not a bad effort for a week off work! And with redundancy around the corner I am currently putting plans in place to visit Sri Lanka and then head back to South East Asia, so I am really hoping it will not be too long until I return.
Until then, watch this space!
Indiana Janner on Instagram | Indiana Janner on Facebook
Indiana Janner on Snapchat | Indiana Janner on Twitter
Singapore Botanical Gardens – beautiful
Links
https://en.wikipedia.org/wiki/Chinatown,_Singapore
https://en.wikipedia.org/wiki/Merlion_Park
https://www.raffles.com/singapore/
https://www.fullertonhotels.com/
https://en.wikipedia.org/wiki/Little_India,_Singapore
https://www.wrs.com.sg/en/night-safari.html
https://www.onefabergroup.com/singapore-cable-car-sky-network
https://guide.michelin.com/sg/tian-tian-fisherman-s-pier-seafood/restaurant
http://www.gardensbythebay.com.sg/en.html
https://guide.michelin.com/sg/liao-fan-hong-kong-soya-sauce-chicken-rice-noodle/restaurant